After the Sharpeville massacre on 21 March 1960, the government declared a state of emergency which resulted in mass arrests. On 8 April it banned the African National Congress (ANC) and Pan Africanist Congress (PAC). A significant number of political activists were either imprisoned or forced into exile, or compelled to operate underground.

In 1964 the leadership of the ANC and high command of the ANC's military wing, Umkhonto we Sizwe (MK), was sentenced to life imprisonment on Robben Island. It was against this background that foreign investment began to flood into the country, increasing the country's economic growth and raising people's employment opportunities. Some of the residents of Tembisa found employment in the recently established industrial areas in the jurisdictions of Edenvale and Kempton Park.
Paulina Masombuka recalls:
"I worked for PVM for five years. Then I quit. Then I worked for a dry-clean [sic]. I quit again and worked for Simba. I then went back to PVM in 1971."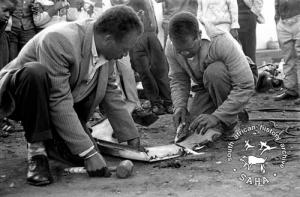 Similarly, Mr David Mofokeng, who was originally from the Orange Free State, demonstrates how simple it was to find work during this period:
"I dropped out of school in the middle of Standard 10 and that's when I came to Gauteng, in 1967. I worked at Primrose at a garage, servicing cars. Andries Kunene is the one who found me work at that garage. He just told me that he quit his job at the garage, because he had found a better paying job. But he took me to replace him. I worked there for a short period and then after some few months Kunene called me again to come and work with him."
Because work was in abundance, black people were obliged to find employment. Unemployment and idleness could lead to arrest.
Malabela recalls:
"We were living a difficult life, because the boers did not want to see anyone not doing anything during the day. They were going around, looking for people who were staying at home and not doing anything. If you can't find work, you must keep on hunting for it until you find it. People were given Special [permit] that indicated that you were looking for work. And if you found it, your employer would sign it so that the police could see that you were working."
The first two stores in Tembisa were established during this period, and they were both situated in Caleni section.
Timothy Mabena remembers:
"When we arrived there was a businessman, who had moved from Edenvale, his name was Mr Thabethe. His first store was in Caleni section. This section was built next to the railway station called Oakmoor. Thabethe's store was called Verwoerd Huis. The second store was called Hlanganani and it belonged to Mr Nhlapo, still at Caleni. Part of Mr Nhlapo's store was used as a post office. That's where we collected our letters."