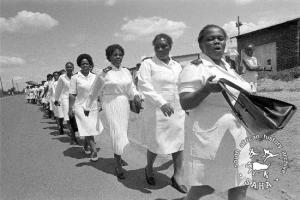 The struggle for liberation in South Africa was fought in all fronts and many and various people were involved. Amongst these were women and whites, particularly those who were members of organizations affiliated to the non-racial UDF. Black women were largely drawn to the struggle because of the civic grievances in their townships, and later, their children's involvement.

Thandi Swakamisa remembers:
"We called a rent boycott. We decided not to pay rent. We wanted the municipality to come and discuss with us on the ground and tell us why they were increasing the rent. We communicated by calling meetings, even though, as time went by, police cracked down on these meetings. You see, you'd find that when we wanted to hold a meeting at a certain place we'd find police occupying that area. So we couldn't hold them.

"But then an M-Plan - Mandela Plan - was developed. That's when we formed street committees, because we couldn't hold mass meetings. ... Within the street committees an overall committee would be formed. All the information would have to go through the overall committee. The latter would pass the information to the street committees about what was to be done. Then the street committees would pass the information to the people in the street.

"In 1985 ... if you had a radio you'd listen to Radio Freedom at night around 10 o'clock. So, [Oliver] Tambo would speak and say what should be done. And the following morning we would all, as committees, get that information. Well, then we were meeting in Johannesburg and we would strategize. This happened until I was identified to be in the Federation of the Transvaal Women (FEDTRAW). We had an office there at ... what's this street's name? Von Wielig and Commissioner."

- Thandi Swakamisa 1

Some of the women in Tembisa became involved in recruiting and organizing other women. Rosina Marakalla explains:
"I was involved leading meetings at Mkhathini at night. You'd find us wearing dustcoats and we would be carrying bibles. When the police come we would open our bibles, and when they leave we start again. There were many of us. Some have passed on. One of them lives in Birchleigh, Mrs Radebe, Thami Mnyele's mother, Mrs Hleza. They used to call us Communists but we did not care. I remember we were starting an organization, FEDTRAW."

Other women were recruited by female activists who had direct links with the ANC in exile. The latter used simple methods to draw women into politics by involving them in projects the women could associate with.
Matilda Mabena's story illustrates this:
"At that time I was not active in politics. I was a nurse at Baragwanath Hospital. But then I was recruited by a friend, Frieda Shaba, and started getting involved. And then we started building the ANCWL ... No, we did not call it the ANCWL because the ANC was banned then. We called it Women's Group."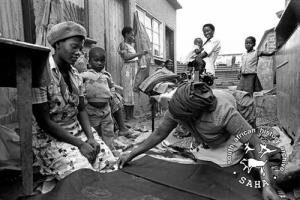 Then most women were not interested in politics. They were interested in other things. So we would organize them and call them to a meeting to inform them about the things that might interest them. There was a person from exile, a cadre that was working underground. This cadre had a skill in making candles. So we would say to these women 'You are all aware that many of us are unemployed and we need to supplement our husbands with many things. So you are invited to a meeting where there would be someone showing us how to make candles'. They would have an interest and attend our meetings. When that person was busy showing them how to make candles we would indirectly talk politics.

The next time they come we would discuss health issues. We would sometimes get a doctor to inform them about the importance of doing pap smear and on. We also discussed gardening and sewing. But gradually we were also introducing them to political issues.

The first one and which was a huge problem in Tembisa was the bucket system. We would say 'Look, when these men who remove the nightsoil they sometimes spill the buckets in the yard and we women are the ones who are supposed to clean. So really this is not healthy'.

There were also councillors then like Mr [Lucas] Mothiba. So in one of our meetings we ... decided that we have had enough of the bucket system. Our children were getting sick because of this system. We mobilized the women and agreed that on such a date we would take all the full buckets with nightsoil and we were going to empty them at Mothiba's store.

We argued that we were supporting Mothiba's store and he was now rich because of our support. He lived in a house with electricity and a sewerage system. Women supported us. Our march to Mothiba's store was led by the late comrade Zodwa Mofokeng. When we arrived there Zodwa addressed us. When the police came they found that we had already spilled the buckets in front of Mothiba's store. After some time the police became aware of those leading the Women's Group and they started harassing and detaining us.
1. Interview with Thandi Swakamisa by Tshepo Moloi, for SADET Oral History Project, 23 April 2004